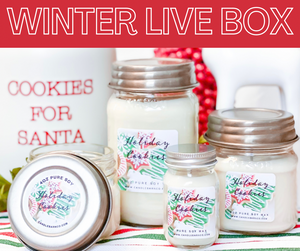 Our Winter Live Box includes 8 products, one of each of our products, and all the fragrances would be random winter fragrances!
Live Boxes are a great way to show everything we have available to your customers and all products will be sold individually with NO MINIMUMS ( Yes even the mini masons) to anyone who purchases a live box. 
16oz Mason, 8oz Mason, 4oz Mason, 1.5 Mini Mason, 4oz Tin, 9oz Amber, 2.5oz Mini Melt, 6oz Large Melt

Order our Winter Sample Kit to get all 12 winter fragrances! 
** Does not include dough bowl candle
** Can not be private labeled but you can get private labels with live box order for additional fee.